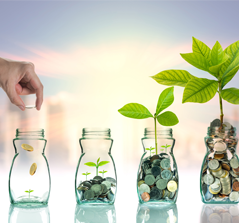 The essence of our investment philosophy is to ensure that our investee companies to realize their potential and create value for their shareholders by helping them achieve their long-term investment objectives.
We aim to help our investee companies to compete not only in Turkey, but also in international markets. We support our partners to grow organically or by acquiring new companies, increase their operational efficiency, get into new markets and create the most suitable capital structure.
Our Strategies Are Focused on Creating Value
We are among the few domestic private equity funds with proven past performance. We believe that we are experienced in meeting the needs of companies during various phases of institutionalization and growth. We take actions without directly intervening in the daily operations of companies, and determine strategies, which will create value for the company, with the management of the company.
Our leadership in applying value creation strategies for our partner companies, increase the competitive advantage of the companies significantly. This allows us to provide our shareholders better returns as compared to the general expectations in the market.